Description & Floorplan
Details & Amentities
Pricing & Availability
Questions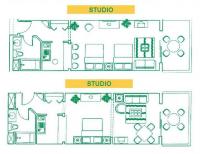 Click to enlarge
It is time you finally cash in on those saved up vacation days and head down to the beautiful beach town of Cabo San Lucas Mexico for some fun in the sun. Book your reservation at the Villa Del Palmar Beach Resort to ensure you have the best possible accommodations in Cabo. You are guaranteed to have the time of your life while in Cabo, whether that is spent relaxing all week or trying adventurous activities nearby.
Located in the heart of Cabo San Lucas Mexico, only a short walk to downtown, you will have the option of relaxing or trying out some of the great activities nearby. The resort has a daily activities calendar that will provide more than enough fun things to do for the entire family when you stay onsite. There is also a 30,000 square foot spa where you can have yourself pampered or keep in shape at the state-of-the-art fitness center. If you want to try some local activities you can try out snorkeling, horseback riding, ATV rentals, and Canyon Canopy Adventures. There are endless fun activities and something for everyone in Cabo San Lucas Mexico.
Studio Suite: The Villa Del Palmar Beach resort offers penthouse, 2 bedroom, 1 bedroom, and studio villas that are all exquisitely decorated, recently refurbished, and have luxury amenities. The studio suite has fully equipped to sleep three adults or two adults and two children on two double beds or queen size bed and a pull out sofa sleeper. You will have one full size bathroom uniquely accented with travertine marble. There is a fully equipped kitchen with place settings for four, a dining table indoors, and a furnished private balcony outside where you can enjoy the gorgeous sunsets while eating dinner. The studio suite is the perfect fit for a couple looking for a romantic getaway or a family of four. 
Testimonials
Thank you for your assistance with our last minute reservation to Cabo. We have stayed many times at Villa Del Palmar, and this time was just a great as every other visit. We appreciated the quick response and good price and everything was arranged just as reserved. I had never stayed in a studio here before, and was pleasantly surprised at the size of the room and especially the full size kitchen. Much more comfortable than studios at other resorts that I have been to. My daughter and I had a great time! Thanks again, and I have already recommended you to my sister. Susan