Description & Floorplan
Details & Amentities
Pricing & Availability
Questions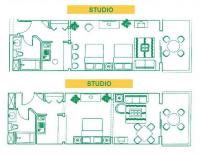 Click to enlarge
 Studio Suite: The Villa Del Palmar Beach resort offers penthouse, 2 bedroom, 1 bedroom, and studio villas that are all exquisitely decorated, recently refurbished, and have luxury amenities. The studio suite has fully equipped to sleep three adults or two adults and two children on two double beds or queen size bed and a pull out sofa sleeper. You will have one full size bathroom uniquely accented with travertine marble. There is a fully equipped kitchen with place settings for four, a dining table indoors, and a furnished private balcony outside where you can enjoy the gorgeous sunsets while eating dinner. The studio suite is the perfect fit for a couple looking for a romantic getaway or a family of four. 
Testimonials
I Loved It!! All of the staff is amazing there. Two of my waiters by the pool were Juan and Raymundo and they were great, I loved water aerobics everyday with Hugo and the entire entertainment staff at night was funny and very enjoyable!! Also, Bagous, the cook at the Japanese restaurant was so good! I had such a good time and enjoyed Cabo so much I am now looking to relocate there! Thank you for your response, I wanted to make sure everyone got the credit they deserve!! Best Regards, Amanda
Thank you Bob. It was a great trip and very easy booking our accommodations thru Destination Vacations, will use again next year on our next trip to Cabo.