Description & Floorplan
Details & Amentities
Pricing & Availability
Questions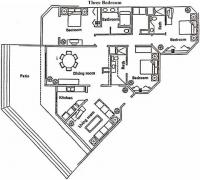 Click to enlarge
If you are planning a trip to Cabo San Lucas, stay in a luxury Villa Del Palmar Penthouse. The Cabo oceanfront penthouse is perfect for families or groups with up to ten guests. Villa Del Palmar is top rated luxury accommodations in Cabo San Lucas and has all of the amenities you would expect from a five star resort. Located oceanfront on Medano Beach, you can participate in the daily resort activities or venture out for some of the nearby Cabo activities. There are endless options of things to do in Cabo San Lucas. If you just need some time to get away and relax, the Villa Del Palmar penthouse is perfect for you.
The onsite amenities are second to none in the Cabo San Lucas area. You can spend your day lounging by the pool sipping margaritas and playing pool volleyball, or treating yourself to luxury spa treatments in the 30,000 square foot spa facility. There is a fitness center to help you keep that bikini body while on vacation and even water aerobics classes held a few times per week. If you bring kids along, they will love the kids club, pools, and most importantly the Willy the Whale giant slide. There are several onsite restaurants and you can also dine out at the sister properties located next door. If you want to head out into the local area, you can try your hand at exciting activities like scuba diving, sailing, 4x4 offroading, or even luxury shopping.
Penthouse 3402: The spacious Cabo oceanfront penthouse 3402 has a king bed, two queen beds, and a sleeper sofa. The penthouse was recently renovated and all the furniture and appliances are brand new. You can relax in your spacious living room and even serve meals at your large dining table with place settings for eight. Each room has its own flat screen TV, spectacular bathroom, and pillow top beds. When you come to Cabo San Lucas, don't settle for anything less than the luxuriously appointed Penthouse 3402.
Testimonials
Bob, Everything was exactly as you promoted. I was happy with the accommodations and your service. I especially appreciated the planning/tip information you sent to me. Thank you! Maria
Hi Bob, We booked enough condos for 65 people for a wedding through Destination Cabo and saved so much money. We had to add one more condo when we checked in and were able to save nearly 50% from what the front desk was offering us. The property is beautiful and has everything you need. We absolutely had the best time ever. We are so glad we stayed at Villa del Palmar and that we used Destination Cabo to get our accommodations. Jenn
Bob, Everything went real well. The people at the Palmar were very helpful and courteous. I successfully avoided all the time share creepers. The grounds and pools were beautiful and the rooms were nice. The weather was great. It was obviously spring break time when we were there, but we already expected what comes with that and since we brought 3 teenagers with us we only contributed to the problem. Thx for everything - Nat & Tricia
I've stayed at many 5-Star hotels in the past. None have been as informative and conscientious in advance of a stay as you have been. Thank you!
Your low rates surprised us. (We go to Cabo often and like to stay at Villa del Palmar.) On this trip that we booked through you, our suite had the best location of any of our trips! Thank you.