Description & Floorplan
Details & Amentities
Pricing & Availability
Questions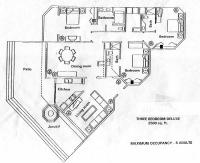 Click to enlarge
If you are looking for a luxury vacation in Mexico, look no further than the Villa Del Palmar Los Cabos. They are among the highest rated Los Cabos vacation rentals and the penthouse villa 1501 will be your home away from home, complete with all the amenities you can possibly need while on vacation and much more. During your stay in Los Cabos, you can relax on your private balcony overlooking Medano Beach sipping on a margarita, or you can venture out and explore one of the great nearby restaurants.
The Villa Del Palmar luxury resort is great for families, couples, and groups. The resort offers five star amenities such as multi-level pools with waterfalls, a fun Willy the Whale slide for kids, and all inclusive meal plans so you don't have to worry about food during your trip. There are daily pool activities for all ages or you can take a dip in the Sea of Cortez since the resort is located directly on Medano Beach; the only swimmable beach in Cabo San Lucas. One of the unique benefits of staying at Villa Del Palmar is that you get full use of their sister resort facilities at Villa Del Arco and Villa La Estancia located next door. When you are ready for some fun Cabo San Lucas activities, you can charter a boat for some world class Sportfishing, take a relaxing horseback ride on the beach, or even take a short walk to some of the area's best fine dining restaurants and whole in the wall taco shops. If you are looking for more of an adrenaline rush, book a Canyon Canopy Adventure that takes you zip lining through the beautiful Baja Sur landscape. 
Penthouse Villa 1501: Totally remodeled in 2018. If you choose to visit Los Cabos, make sure you book one of our luxury penthouses. The villa 1501 is the top Los Cabos vacation rental because it has everything you need and more. The 3 bedroom penthouse has a large private balcony with private hot tub for you to relax and enjoy the gorgeous views of Medano Beach. Inside, you will have a spacious living and dining area in case you want to share a meal in one night. The villa comfortably sleeps up to 8 with three king beds and a sleeper sofa. A few of the top amenities include air conditioning, washer/dryer, and granite countertops. You will feel like royalty when you stay in the Villa Del Palmar penthouse.
Testimonials
We have been meaning to get back to you regarding our stay. The entire complex including all three resorts was really nice. The beach was great and we had no problems with getting chairs at the beach or near the pool. The unit was very nice and the balcony was beyond our expectations. It was big and the view was magnificent. The whole staff at the complex were extremely helpful, courteous,and quick to help with any issue or things we needed. They could not have been better. We really enjoyed our stay and would come back. We mainly ate at the Bella California and found the food very good. Once we had the breakfast buffet and that too was good. We were in town for all of our dinners, and had some great meals at reasonable prices. The rooms were very nice although we were expecting King size beds in all three rooms and only the master had a King the others were queens but we made it work. All in all the unit and complex was even better than we expected and we want to thank you for all of your help and insight. Hopefully we will work with you on another vacation in the future.
As I have already relayed to you, my family and I absolutely loved your condo unit 1501 at Villa del Palmar. We had a wonderful time there. The resort was nice. We didn't participate in the All Inclusive Plan as we go into town for dinner each night, but we did enjoy breakfasts at the cafe and lunches on the beach. The only complaint I could have is the beach service is extremely slow and not very accurate with your orders, but it didn't bother us all that much. We are very interested in renting this unit again next year.