Description & Floorplan
Details & Amentities
Pricing & Availability
Questions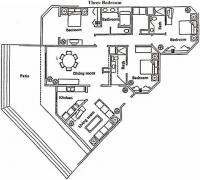 Click to enlarge
Live in style when you visit the spectacular beach front resort Villa Del Palmar Cabo San Lucas. The villa 1402 penthouse is perfect for creating lasting memories during your next Cabo vacation. Villa Del Palmar is one of the top rated Cabo San Lucas optional all inclusive resorts with gorgeous views of the Sea of Cortez and located directly on Medano Beach. The popular resort is like new again with the recent multi-million dollar renovation to both the outdoor and in-suite amenities.
During your stay, you can enjoy the resort's large and fun pools or dive into the Sea of Cortez on the only swimmable beach in Cabo, Medano Beach. One of the resort's pools has the famous "Willy the Whale" slide that kids love and a hidden Jacuzzi tub inside an underground cavern. There are several daily activities that are fun for the entire family, and parents have the option of keeping the kids busy in the popular kids club onsite. Villa Del Palmar also features a state-of-the-art fitness center and tennis courts in the 30,000 square foot spa. If you want to venture out and try more restaurants, you have full access to the amenities of the luxury resorts Villa La Estancia and Villa Del Arco, located just next door. The friendly staff can help you book multiple activities and excursions in the Cabo San Lucas area. Two popular things to do are the canyon canopy tour where you zip line down a Baja California Sur valley or reserving your tee time at one of the nearby world class golf resorts. If you don't want to venture that far out, you can walk down to the beach where multiple businesses offer parasailing over the Sea of Cortez or panga boat rides out to Lover's Beach where you can watch the sunset over the Pacific Ocean.
Villa 1402 Penthouse: You should expect only the best accommodations and service on your next Mexico vacation and that is exactly what you will get in the Villa 1402 penthouse. You will have three master bedrooms that all have their own private luxury bathroom and tub, shower, and travertine marble accents. You can bring up to 10 guests and cook and dine in your spacious dining room and fully equipped kitchen. With a stove, oven, dishwasher, full size refrigerator, microwave and much more, you will have everything you need to prepare a home cooked meal in your new home-away-from-home. You can lounge in your comfortable and spacious living room with the air conditioning on full blast or soak up the sun on your private veranda overlooking Medano Beach with a spectacular view of Land's End. The 4th floor penthouse has over 2,500 square feet of living space and can accommodate up to 8 guests. Each room has their own LCD TV and everyone can save a little money by doing laundry using the villa's in-suite washer and dryer. When you are ready for your next Cabo San Lucas all inclusive vacation, be sure to make the 5 star resort Villa Del Palmar Cabo your first choice for its exquisite view, luxury amenities, and friendly service.
Testimonials
Bob, Everything was exactly as you promoted. I was happy with the accommodations and your service. I especially appreciated the planning/tip information you sent to me. Thank you! Maria
Hi Bob, We booked enough condos for 65 people for a wedding through Destination Cabo and saved so much money. We had to add one more condo when we checked in and were able to save nearly 50% from what the front desk was offering us. The property is beautiful and has everything you need. We absolutely had the best time ever. We are so glad we stayed at Villa del Palmar and that we used Destination Cabo to get our accommodations. Jenn
Bob, Everything went real well. The people at the Palmar were very helpful and courteous. I successfully avoided all the time share creepers. The grounds and pools were beautiful and the rooms were nice. The weather was great. It was obviously spring break time when we were there, but we already expected what comes with that and since we brought 3 teenagers with us we only contributed to the problem. Thx for everything - Nat & Tricia
I've stayed at many 5-Star hotels in the past. None have been as informative and conscientious in advance of a stay as you have been. Thank you!
Your low rates surprised us. (We go to Cabo often and like to stay at Villa del Palmar.) On this trip that we booked through you, our suite had the best location of any of our trips! Thank you.