Description & Floorplan
Details & Amentities
Pricing & Availability
Questions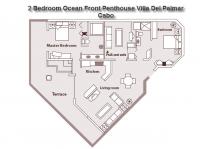 Click to enlarge
The luxury Villa Del Palmar all inclusive resort in Cabo San Lucas is the perfect getaway for families. The resort itself has too many amenities to list, the penthouse 1201 is the equivalent of a luxury home, and there are plenty of Cabo San Lucas activities nearby to satisfy even the most adventurous travelers. Stay in the ocean front penthouse that has gorgeous views of the Sea of Cortez and your own private Jacuzzi.
The Villa Del Palmar all inclusive beach resort has everything you could ever want in five star accommodations. The all inclusive packages gives you access to the onsite restaurants and pool side service while you are relaxing under the sun sipping on a margarita. The resort is great for families with young kids because not only does one of the pools have a giant Willy the Whale slide, there resort is known for operating one of the top kids club programs in all of Los Cabos. Themed parties, planned daily activities, and arts and crafts will give your kids an ultimate vacation while you have some alone time. Pampering yourself is easy at the 30,000 square foot Desert Spa where you can enjoy a massage and get your vacation off on the right foot. There is also a plethora of Cabo San Lucas activities when you are ready to venture out into the Los Cabos area. Charter yourself a boat for some world class Sportfishing or have the concierge reserve you a tee time at one of the numerous championship golf courses nearby. If that isn't your thing, you can head down to the luxury Cabo marina for all sorts of shopping.
Penthouse 1201: You will be staying at one of the top privately owned villas in all of Cabo San Lucas. With two and a half luxuriously appointed bedrooms and all the comforts of home, you will be able to focus on relaxation. The highlight of the villa is the spacious wraparound veranda with a private Jacuzzi overlooking Medano Beach and the resort pools. The penthouse comfortably sleeps eight guests with a king bed, queen bed, and two queen size fold out sofa beds. If you want to host the party and cook in your villa, you will have a full size gourmet kitchen, dining table, and seating on your balcony. Some other highlights include wireless Internet and air conditioning but there are too many amenities to list. When you stay at the Villa Del Palmar all inclusive resort in penthouse 1201, everything will be taken for you.
Testimonials
Bob, Everything was exactly as you promoted. I was happy with the accommodations and your service. I especially appreciated the planning/tip information you sent to me. Thank you! Maria
Hi Bob, We booked enough condos for 65 people for a wedding through Destination Cabo and saved so much money. We had to add one more condo when we checked in and were able to save nearly 50% from what the front desk was offering us. The property is beautiful and has everything you need. We absolutely had the best time ever. We are so glad we stayed at Villa del Palmar and that we used Destination Cabo to get our accommodations. Jenn
Bob, Everything went real well. The people at the Palmar were very helpful and courteous. I successfully avoided all the time share creepers. The grounds and pools were beautiful and the rooms were nice. The weather was great. It was obviously spring break time when we were there, but we already expected what comes with that and since we brought 3 teenagers with us we only contributed to the problem. Thx for everything - Nat & Tricia
I've stayed at many 5-Star hotels in the past. None have been as informative and conscientious in advance of a stay as you have been. Thank you!
Your low rates surprised us. (We go to Cabo often and like to stay at Villa del Palmar.) On this trip that we booked through you, our suite had the best location of any of our trips! Thank you.