Description & Floorplan
Details & Amentities
Pricing & Availability
Questions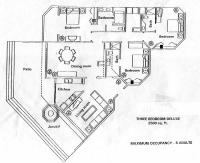 Click to enlarge
Visit the breathtaking Los Cabos Villa Del Palmar resort located directly on Medano Beach. The 3 bedroom ocean front villas are some of the top Los Cabos vacation rentals with all of the luxury amenities you would expect from a five star beach resort. You can set your own pace on vacation and spend every day relexing by the pool, getting a massage at the Spa, or swimming in the Sea of Cortez. Or, you can head out for a little adventure on offroading tours, scuba diving, and deep sea fishing. There are never a shortage of fun activities when you stay at the Los Cabos Villa Del Palmar located walking distance to downtown.
The Villa Del Palmar resort on Medano Beach has everything you will need on vacation. Pristine pools, top rated kids club, fine dining restaurants, 30,000 square foot spa, and daily activities are just a few of the amenities you can expect. You can soak up the sun and enjoy the views of Land's End all from the comfort of the resort. The world class staff on site will pamper you and tend to your every need. When you are ready to venture off site, you can walk downtown (or take a short cab ride) and visit the luxury shopping mall, marina, and multitude of authentic Mexican restaurants. There is someting for everyone here in Los Cabos.
3 Bedroom Ocean Front Penthouse: You should expect only the best accommodations and service on your next Mexico vacation and that is exactly what you will get in these spectacular Los Cabos vacation rentals. The penthouses have three master bedrooms that all have their own private luxury bathroom with travertine marble accents. Each bedroom and the living room has its own LCD TV. You also have the convenience of an in-suite washer and dryer. Cook and dine in your spacious kitchen and adjoining dining room. With an electric stove, oven, dishwasher, full size refrigerator, and much more, you will have everything you need to prepare a home cooked meal in your new home-away-from-home. You can lounge in your comfortable and spacious living room with the air conditioning on full blast or soak up the sun on your private veranda overlooking Medano Beach with a spectacular view of Land's End. A private hot tub on the veranda is there to provide the crowning touch of luxury with views you will never forget. These exclusive penthouses provide over 2,500 square feet of living space. When you are ready for your next Cabo San Lucas all inclusive vacation, be sure to make the 5 star resort Villa Del Palmar Cabo your first choice for its exquisite view, luxury amenities, and friendly service.
Testimonials
Bob, Everything was exactly as you promoted. I was happy with the accommodations and your service. I especially appreciated the planning/tip information you sent to me. Thank you! Maria
Hi Bob, We booked enough condos for 65 people for a wedding through Destination Cabo and saved so much money. We had to add one more condo when we checked in and were able to save nearly 50% from what the front desk was offering us. The property is beautiful and has everything you need. We absolutely had the best time ever. We are so glad we stayed at Villa del Palmar and that we used Destination Cabo to get our accommodations. Jenn
Bob, Everything went real well. The people at the Palmar were very helpful and courteous. I successfully avoided all the time share creepers. The grounds and pools were beautiful and the rooms were nice. The weather was great. It was obviously spring break time when we were there, but we already expected what comes with that and since we brought 3 teenagers with us we only contributed to the problem. Thx for everything - Nat & Tricia
I've stayed at many 5-Star hotels in the past. None have been as informative and conscientious in advance of a stay as you have been. Thank you!
Your low rates surprised us. (We go to Cabo often and like to stay at Villa del Palmar.) On this trip that we booked through you, our suite had the best location of any of our trips! Thank you.