Description & Floorplan
Details & Amentities
Pricing & Availability
Questions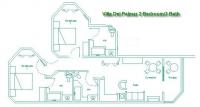 Click to enlarge
The Cabo San Lucas Villa Del Palmar is calling your name and you are ready to cave in and take that long overdue luxury vacation. When you stay at one of the top rated Cabo San Lucas resorts like Villa Del Palmar, you won't have to worry about a thing while on vacation. You will be pampered during your entire stay and the two bedroom villas are a great way to relax and wind down from an exciting day under the sun in Cabo San Lucas.
During your stay on the beautiful Baja Sur peninsula, you will have plenty of opportunities for unique experiences and relaxation. Pick a couple days that you will spend laying poolside and sipping on margaritas under the sun, but then set aside time for some of Cabo's best activities. There are plenty of daily activities at the resort to keep you busy all week, but you don't want to miss out on world class Sportfishing, golfing, scuba diving, or even 4x4 offroading adventures. If those aren't your cup of tea, stroll down to the marina and peruse the new luxury mall and fine dining restaurants that will give you a taste of the local cuisine. Of course, some of the most fun you will have in Cabo is when the sun sets and the bars turn into giant dance floors.
2 Bedroom Villa: When you stay at the Cabo San Lucas Villa Del Palmar in a two bedroom villa, you will have all the accommodations to make you feel right at home… but surrounded by the most beautiful settings in the world. Sprawl out in the two master bedrooms, three full size bathrooms, living room, or private balcony when you aren't down by the pool. Watching your favorite team play on the satellite TV and cooking a meal in your gourmet kitchen are just a few of the ways you can enjoy your private 1,130 square foot villa.
Testimonials
We had a wonderful time. Everything was just as you said it would be when we arrived. Thank you