Description & Floorplan
Details & Amentities
Pricing & Availability
Questions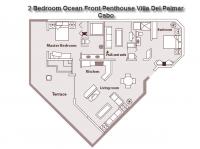 Click to enlarge
When in Cabo there is nothing like ocean front with incredible Medano beach, Lands End (the end of Baja), Sea of Cortez views and all the exclusivity and privacy you deserve. Complete with huge entertaining balconies and hot tub. Two bedrooms, sofa sleeper, full kitchen...like your ultimate beach home! Some units vary from floorplan displayed in this listing and do not include the den. 
Testimonials
Everything went very well. We did end up upgrading which made a big difference. Thanks for all your help and I would lean on you the next time we go as well !! Thanks again, Mike
Our trip was fantastic. The property was everything that was promised, thank you. We enjoyed many of your restaurant suggestions, went snorkeling and sport fishing. My son caught a 150 pound marlin :) Staff at the resort are fabulous, very attentive and helpful. The weather was great and the waters calm. It rates among our best family holidays. I look forward to connecting with you in the future.
Hi Bob: We loved it and looking to stay again next year, during whale watching season. The villa we had was perfect for our needs and had a stunning view! We were at the "U" like you mentioned on our phone call. Staff at the villa were top notch too. Unfortunately, I was sick the entire week with the flu but what a great place to relax. The shuttle service was priceless and worth every penny. On time both ways and very accommodating. I will definitely be doing business with you again! I see why Jim H. referred you! :)