Description & Floorplan
Details & Amentities
Pricing & Availability
Questions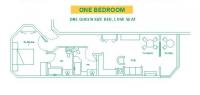 Click to enlarge
One Bedroom Villa Suites are 860 square feet of luxury and space for up to four adults, featuring: 
-Master bedroom with a King-size bed 
-Two bathrooms with Travertine marble accents and sunken tubs and showers 
-Comfortable Queen box spring Murphy Bed in the living room, coffee table, corner lamps, LCD TV 
-Kitchen with a blender, cookware, coffee maker, electric stove, microwave, refrigerator, service for four and a toaster 
-Dining area with table and seating for four 
-Furnished balcony 
-Air-conditioning and ceiling fans 
-Telephone, clock radio 
-Free Satellite TV
Testimonials
We had a great Spring Break in Cabo!! Thanks for all of your information, it really helped! All 16 of us had a blast!
Cabo was fabulous!! Everyone was very pleased with the resort and had a great time. The next time we go back to Cabo I would like to stay at the Villa Del Arco. That was beautiful!! But, the Villa Del Palmar was perfect with all of the kids.
I just wanted to let you know that we really enjoyed our Mexican vacation and the resort was beautiful.
We liked Villa Del Palmar. It was a good place for the kids, clean and the beach was excellent. The unusual thing was literally everyone there was on an all-inclusive deal except for us. I personally don't like those all-inclusives though and would rather order specific higher end liquor/beer or wine and eat there OR in town when I want without regard to the all inclusive deal...so it worked fine for us! The rooms were nice/spacious and the people friendly! No complaints! It was an excellent vacation.